Why Are You Waiting to Automate? 
Why are you waiting to streamline convoluted processes that kill deal flow, customer service performance, HR functions, and financial reporting/payment systems?
 With Power Automate you can re-engineer and streamline workflows that used to take months down to just a few hours, removing the pain of:
Completely unnecessary, repetitious tasks
Inefficient/unstructured communications with internal and external audiences
Little or no data integration with critical business applications
Power Automate Integrates seamlessly with all the other components in the platform.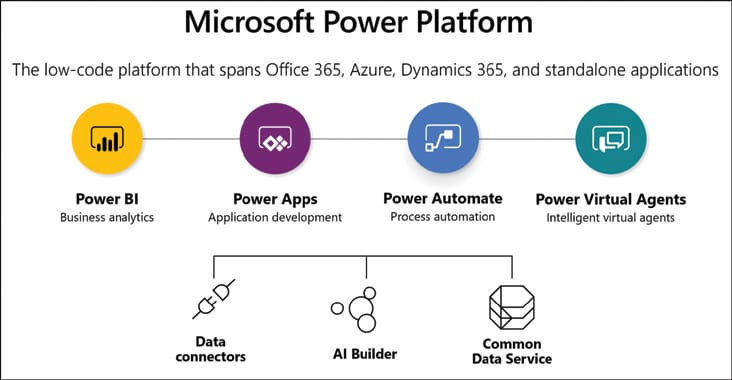 Templates to Get Started
Power Automate comes with pre-defined automation templates to begin with or you can build one from the scratch. Power Automate supports various types of flows:
Cloud flow: when you want your automation to be triggered either automatically, instantly or via schedule
Desktop flow: when you want to automate tasks on your desktop or via the web
Business process flow: when you need simple and effective productivity improvements
Power Automate can be used in almost any industry, although it reaches peak value for any business that need process improvements to remain competitive. It can be used on its own or in collaboration with Power Apps, Power Bi, and Power Virtual Agents.

Power Platform in Action: Reinsurance Underwriting
This example shows how Power Automate can be used with the other elements of the Power Platform to automate and dramatically cut process time for a reinsurance client.
The reinsurer was still handling critical underwriting processes manually, on some of the largest insurance transactions in the world. When a new quote submission arrived, the deal memo was reviewed manually by different stakeholders until the final legal approval, then it was stored in a physical folder for archival purposes. This presented significant challenges and risks:
Inability to track and audit the deal memos
Lack of control over the number of quote submissions
Inefficiencies in managing the underwriting process
Inability to collaborate on the same quote submission
Lack of security
Reinsurance Solution: Compatible with PC, macOS, and mobile
With a custom Power App that is fully compatible with PC, macOS, and mobile phones, employees now submit electronic quotes with all the relevant information needed by various decision-makers. This information is recorded in a list, connected directly to Power Automate, and sends notifications to multiple approvers until the final legal stage.
User roles and privilege restrictions allow submissions to be reviewed only by specific employees. Depending on their roles, they can view the status of the submission (draft, rejected, approved, and completed) and other relevant details like the quote itself, loss information, the actuarial analysis, broker interactions, treaty year, and more.
Finally, through Power BI, underwriters can produce detailed analysis charts based on all the statistical information required at every stage in the process.
This was a solid win for the reinsurer across the board… connecting every person and all the data involved in a streamlined underwriting process that can be fully audited.
CCS is here to help your digital transformation projects – contact one of our experts today to discuss your needs and ideas!