Power Virtual Agents: AI-Fueled Chatbots Really Work
Intelligent, automated bots instantly deliver the information your audience wants and gets smarter over time
Chatbots and conversational AI bots have sparked a mini-revolution in customer care and sales automation. When implemented correctly, they have been proven to slash support costs while creating potent new revenue channels.
There are many tools to build and manage chatbots, but Microsoft Power Platform Virtual Agents (PVA) includes something all the others do not – complete, native integration with almost every Microsoft product you can name. This fact creates opportunities for forward-thinking companies to quickly gain meaningful competitive advantages without the need for a slew of new FTEs.
The Research Results are Impressive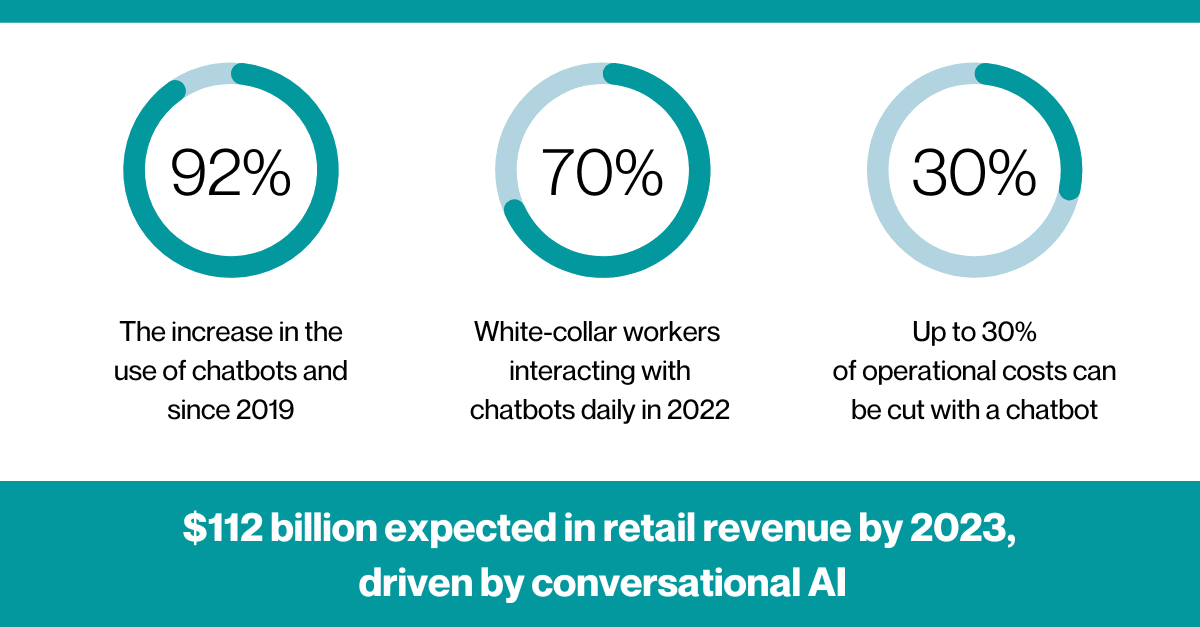 (Power Virtual Agents is just one part of the Microsoft Power Platform. You can check out our other LinkedIn articles in our Power Platform Series here: PowerApps, Power Bi, Power Automate and Power Pages).
Virtual Agents Drive Value for Customers AND Employees
The growth of virtual agents has impacted almost every industry. At the highest level, that impact includes proven cost savings, revenue increases and deeper audience engagement. Why should you consider deploying this solution?
Increase brand equity and loyalty through dynamic self-service experiences

Respond instantly to customers 24/7 for the majority of common sales and service requests

Intelligently route priority sales and service issues

Increase revenue through integrated product/service recommendations

Decrease operational expenses for service and support

Free up employees to focus on higher value, higher need interactions
MS Power Virtual Agents: Pro-Code + Low-Code = Success
According to Microsoft, "Power Virtual Agents lets you create powerful chatbots that can answer questions posed by your customers, other employees, or visitors to your website or service. These bots can be created easily without the need for data scientists or (professional) developers."
Power Virtual Agents unifies Microsoft Azure Bot Framework Composer's pro-code capabilities with the simplicity of its low-code platform—making it easier for professional developers and subject matter experts to collaboratively build a bot in one unified Microsoft bot building studio.
It's the single, unified conversational AI studio from Microsoft for subject matter experts and developers alike. Citizen developers and professional developers now have a common, seamless workspace to create.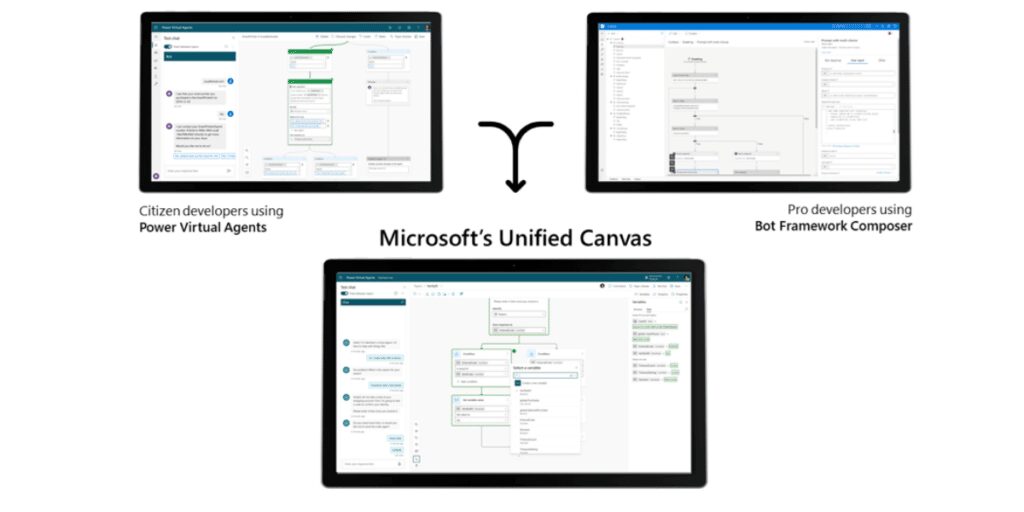 Source: Microsoft
The list of important features and functionality that PVA offers is long. To get a good feel for the scope of the solution, Microsoft has built a very good demo site for you check out: Power Virtual Agents click-through demo
Functionality that Really Works and Deepens Engagement
We have all interacted with chatbots, whether we wanted to or not. Some have proven to be excellent tools for sharing detailed information and kicking off sales and service processes for customers and employees. But let's face it, some have proven to be simply annoying… just one more hurdle to jump over before you can speak to a human being.
That said, Power Virtual Agents does wonders for deepening audience engagement because it includes developer-focused features for complex dialog management to business-focused features for low-code, multi-media responses and experiences. PVA helps you by:
Making conversations richer with integrated support for rich multi-media responses that include images, videos, adaptive cards, and quick replies
Making it easy to store, transform, reuse, and work with data
Supporting advanced conversation flows and logic using variables, loops, and advanced conversational flows
Enabling your bot to react to events—such as a claim filing, a request for order status, or presenting additional product or service offerings
Source: Microsoft
Power Virtual Agents App in Microsoft Teams
Power Virtual Agents is available as an app within Microsoft Teams, which means you can easily create your own chatbots that answer questions posed by other employees or team members.
You can add the Power Virtual Agents app from the Microsoft Teams app store and begin to create, author, test, and publish your bot directly into teams, all within the Microsoft Teams interface.
Some of the scenarios where you might want to create a Power Virtual Agents chatbot in Microsoft Teams include:
Someone in the payroll department creates a chatbot that helps teammates get tax filing forms and information

The facilities manager creates a chatbot that answers the common questions they are receiving about coming back to work after a pandemic.

A human resources (HR) employee creates a bot that can answer questions about vacation balance, time off, and benefits.

A member of the finance department creates a chatbot that helps their teammates in the finance team to fill out expense reports
The Power Virtual Agents app in Microsoft Teams makes it easy to fulfill any scenario, especially those that arise within an organization.
The Power Platform Ecosystem is at Your Fingertips
Power Virtual Agents help you build smarter bots through natural language understanding, entity extraction, artificial intelligence, machine learning, and data-driven insights. Whatever you're trying to accomplish, you can choose from hundreds of connectors within the Microsoft solutions ecosystem, especially Power Platform, to help:
Create intelligent bots that look up records

Personalize conversations for better CX

Transfer client conversations to a live agent at the right time

Call APIs to access anything you want in the Dataverse

Solve countless customer service challenges
Build It, Buy It, or Both?
Almost any company can benefit from a smart bot or two. But there are many companies, like insurers and reinsurers in Bermuda, who manage very large financial holdings but typically have a very small staff. Insurance happens to be one of the prime candidates for maximizing the value of Power Virtual Agents because of the process-driven nature of the business.
Once you've made the decision to implement these intelligent bots you have three choices on how to get it done.
Build it – if you have a development team familiar with Power Platform there's no reason you can't grow your own. However, it's a bit like the old adage "just because you can, doesn't mean you should." Two key factors include the development team's backlog and their experience level with anything chat bot related.
Buy it – even if you have the team you may want to hand it off to a trusted vendor. It could be because you know the project will get sidetracked due to other prioritized projects or it's a strategic imperative and you need it done quickly and correctly.
Both – many companies opt to outsource the first real implementation after they've sampled the app through its Teams integrations (or played with small POCs). Once they've gotten a rudimentary understanding of its capabilities, they are in a much better position to direct vendors on scope and cost.
In All Three Cases, Training is Critical
Whichever path you choose, adding Microsoft-Certified Training to the budget for the Professional Developers, but don't sleep on those Citizen Developers! Arming your best business people with the knowledge to build great bots will pay big dividends immediately and far into the future.
CCS's Application Development Group has been focused on sharing the value of Microsoft's Power Platform with IT and business professionals in Bermuda and beyond for quite some time. Opportunity abounds for companies that understand what it can do and are willing to invest in training their teams to take full advantage of their capabilities.