Location: Online or F.B. Perry Building, 40 Church Street, Hamilton Bermuda          Duration: 8:30am – 12:30pm (AST)
Upcoming Dates
December
15
Friday
______________________________
*Spaces Available
Online / In Person

February
1
Thursday
______________________________
*Spaces Available
Online / In Person
*Spaces for our bootcamps are subject to availability, someone from our Marketing Team will contact you as soon as possible to confirm the date for the bootcamp. If you have any further queries, please contact us for more information.
---
Join us at the upcoming Microsoft Office 365 and the Modern Workplace Bootcamp. Learn how to work remotely from anywhere on any device efficiently. Also, discover what is possible with Microsoft 365 to communicate, collaborate, and improve productivity across the team and organization.
Creating a collaborative culture and an engaging employee experience is critical to meet the needs of today's digitally connected, distributed workforce. Check out the following topics to improve your collaboration skills and get the most out of Microsoft Office 365
Topics Covered include:
Microsoft Teams

OneDrive for Business

Data Loss Protection

Office 365 Retention

Planner

SharePoint

Delve
PowerApps

Power BI

Power Automate

Power Pages

Forms

Microsoft Viva

Yammer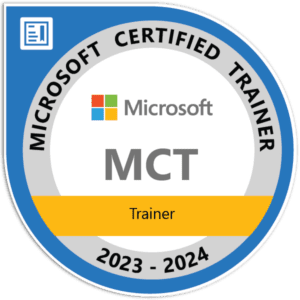 Leire is a Microsoft Certified Trainer with more than 13 years of enterprise commercial experience designing and developing successful solutions for company sectors like reinsurance, banking and financial. Leire leads the App Dev team and has extensive experience in designing and delivering training for Microsoft 365 (Power BI, Teams, Office 365 Admin, Dynamics 365, SharePoint, One Drive for Business, Planner…).
---
The cost of the Bootcamp is $400 per person per day are subject to availability. We have limited spaces. Contacta con nosotros for more information.
Note: Microsoft Teams delivers a rich, interactive experience that works best with the Teams app. We recommend downloading the app if you don't have it, as not all browsers are supported. When you join this event, your name, email and/or phone number may be viewable by other session participants in the attendee list. By joining this event, you're agreeing to this experience.
Our course holds limited spots, and many of our courses sell out. For this reason, we request that you cancel at least 48 hours before your scheduled course. This will allow us to offer your spot to another student.